The Drive-In Theater History Page

Drive-ins are Reborn!!!
Something happens in the 90's, the number of theatres closing slows down. Many drive-in add extra screens, many go Twin, some go Tripple, a few go Quad, one in Florida goes 13 screens!!!!! The crowds and the families retun. I have been told by many owners that they have to close the gates some nights, because they run out of space to park cars. Also if you look at the crowd you see mostly families with young children, just like the crowd of the 50's, it seems that a new generation has discovered the drive-in.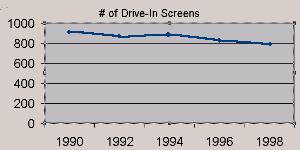 Some drive-ins reopen in the late 90's. Over the past 4 years I know of 15 DI's that have reopened. Not just reopenings, but there has been 4 new drive-ins built in the past 5 years. We are still loosing some drive-ins, but the numbers are stable. Drive-in begin to spring up overseas, one was opened in Russia in 1999, a few have opened in other countries, along with some reopenings like in Spain.
Select a new Time Destination