The Drive-In Theater History Page

Drive-In Theaters Hit the high Numbers!!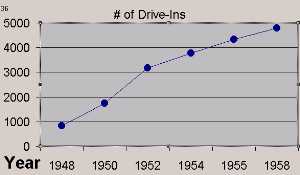 The drive-in boom was under way. Going from less than 1,000 in 1948 to close to 5,000 by 1958. The drive-in etched it's place in history, not just in the U.S.A. but in many countries across the world. During the same years of 1948 to 1958 over 5,000 indoor theaters closed reducing their number from 17,000 to 12,000.
Not just the # of drive-ins increased, but the size.
They said you can't build one that big!
One of the largest Drive-In Theaters was the All-Weather Drive-In , Copiague, New York. parking spaces for 2,500 cars. It also had an indoor 1,200 seat viewing area, that was heated and air-conditioned, a playground, a cafeteria, a restaurant with full dinners. A shuttle train that took customers from their cars to the various areas, on the 28 acres.
List of theaters by size.
Troy Drive-In: Detroit, Michigan. 3,000 cars
Panther Drive-In: Lufkin, Texas. 3,000 cars
All-Weather Drive-In: Copiague, New York 2,500 cars
110 Drive-In Melville, New York. 2,500 cars
Newark Drive-In: Newark, New Jersey 2,400 cars
Belair Drive-In, Cicero, Illinois. 2,300 cars
Timonium Drive-In: Timonium, Maryland 2,479 cars
Los Altos Drive-In: Long Beach, California 2,150 cars
What was the smallest?
Harmony Drive-In: Harmony Pennsylvania. 50 cars
Highway Drive-In: Bamberg, South Carolina. 50 cars
Ponce DeLeon Drive-In: Ponce DeLeon, Florida. 60 cars
Twilite Drive-In: Nakina, North Carolina. 60 cars
Norwood: Norwood, Colorado. 64 cars
More to do at the Drive-In
As the size and number of drive-ins increase, many go from just a playground to:

Miniature Trains
Pony Rides
Boat Rides
Talent Shows
Miniature Golf
Animal Shows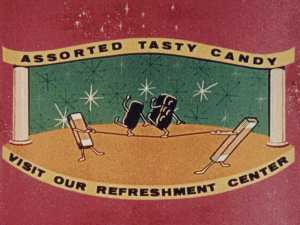 Many theaters would open the gates as much as 3 hours before the movie would start. This allowed customers to bring the kids early. Many theaters began to serve a wide variety of dinners such as Fried Chicken, Bargecued Sandwiches, Hamburgers, Pizza, etc. A few theater owners even gave the customers the ability to order from their car and have a car hop deliver. To increase sales the intermission trailers were invented. Theaters using these gained increased sales between films.
Select a new Time Destination