Finger Lakes Drive-In
Clark Street Road, Auburn, NY 13021
(315) 252-3969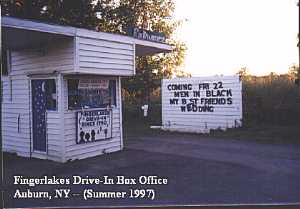 The lot can hold about 290 cars and we just updated our projection system so that the picture is clear and bright.
The concession stand has a wide choice of goodies from Ice-Cream to Pizza to candy. You can tune in on your car radio on 540 AM or use the speaker posts.
I believe the Drive-In was constructed in 1949 (I'll have to check that), even though the sign on the front of the Box-Office says 1950. This Drive-In was the companion to the Drive-In located in the other side of town... but that was before my time.
The Drive-In on Rts. 5 & 20 came under new ownership two seasons ago and many improvements and modernizations have been made, yet we are still trying to give folks that special "Drive-In" experience. The Drive-In usually opens in late April or early May on the weekends and jumps to a full 7 day schedule from Memorial weekend to Labor Day.
From time to time the origional owner of both Auburn Drive-Ins stops by and let's us in a few trade secrets and enlightens us on some of the great history of the outdoor threatre.
Thanks to the managment of the Finger Lakes DI for the photos and info.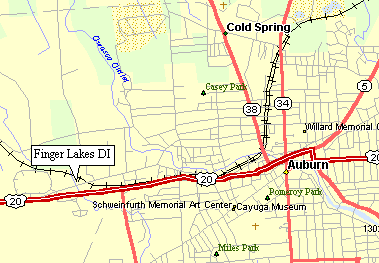 Use the Back button to return to the list page. .